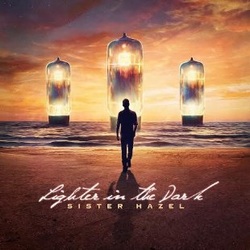 For more than twenty years,
 Sister Hazel 
– Ken Block, Jett Beres, Andrew Copeland, Ryan Newell and Mark Trojanowski – has built a musical connection with fans playing bars and clubs, theaters, arenas, college campuses and festivals. After a five-year absence, they return February 19th with their thirteenth release, 
Lighter In The Dark,
 which was recorded in Nashville's Tin Ear Studio and produced by their longtime engineer Chip Matthews. The album contains fourteen tracks, most co-written by members of the band, but there are also some from outside writers including the album's debut single, "We Got It All Tonight," written by Chris DeStefano, Ashley Gorley and Rodney Clawson.
Lighter In The Dark kicks off with the rush of "Fall Off The Map," taking you on a trip that's fueled by the band's fusion of influences and balanced by their distinctive lead vocals, harmonies and a hefty dose of heart. There's amusing ("It's over when you're sober") dance floor numbers with a rockabilly flair like "Kiss Me Without Whiskey" and "Prettiest Girl At The Dance," and special guests including Darius Rucker on the fun, relatable "Karaoke Song" and newcomer Jillian Jacqueline who adds a gripping vocal on the heartbreak ballad "Almost Broken."
One of the album's highlights "Something To Believe In" sees the band from the other side of the stage, "I'm just a kid from Gainesville watching Petty with my lighter in the dark," while "Danger Is Real" with it's revival feel, puts forth an inspiring and uplifting message "Don't chose to be afraid there are lessons in our tears."  Rounding out the album is the roots rockin' "Run Highway Run," the shuffling, sing along anthem "Take It With Me," the acoustic "Thoroughbred Heart," on which their harmonies shine, and "Back To Me," touching a nerve as he sings "I'd just love to see the love I gave you come back to me."
The best, however, is saved for last with "Ten Candle Days." Written by Beres, who also sings lead for the first time, the song is an ode to the hard working miner's life; a lovely arrangement highlighted by his vocals and quiet fiddle that tells a powerful yet somehow peaceful.
Beres has said, "And we've always been unclassifiable, We'll put out a record and go, 'What is it? Is it country music? Is it Southern rock? Is it pop? is it college acoustic, alternative?'" Sister Hazel might not be able to fit neatly into any one category, but it doesn't really matter, because it's just good music.