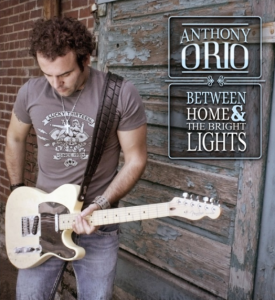 I can't pretend I'm into this, or that contemporary country doesn't aggravate the shit out of me in an all-encompassing sense, from its aesthetics to its subject matter. I also can't pretend that this doesn't fit perfectly within its designated niche and won't please the demographic of said niche. Anthony Orio has thus far earned himself several keynote Nashville accolades, featured on ASCAP's Hot on the Row series (with gigs at legendary venues The Opry House and the Ryman as well as the legendary dive Tootsie's Orchid Lounge) and shared stages with Kris Kristofferson, Toby Keith and Jamey Johnson. He's the quintessential country success story who chased the Nashville-specific dream, moving from Philadelphia to Music City at age 18 to put himself through the open-mic wringer, 90 percent of which is white noise (not because its performers aren't talented but, in fact, because they are), and eventually starting his own writers rounds.
What's commendable is that he did, in fact, take the much more arduous, much-less-often credited path of a professional songwriter, and emerged as such with an irrefutably accessible and radio-ready pop writing style, published by Sony, Universal, RPM and Major Bob. Heavy shit. I can't speak to Orio's live show, of which he does an average 200 a year, but I can imagine how they translate based on Between Home & the Bright Lights, a 2012 release that drifted into the Pulse office recently. The songs are personal, sometimes serious but not heavy, usually set in the bar or the bedroom; sex is everywhere, the songs are forceful, sometimes vindictive, and Orio's voice spits them out in a developed, strong and effortless twang.
Recorded at The Tracking Room in Nashville, the album is largely guitar-driven and features a range of guitarists standing in for the record, which Orio helped produce. The 13 tracks are a mix of torch songs and fist-pumpers—there's the sensory profession of lust, "Everything That Touches You," the euphoria-of-drinking song, "Walkin' On Whiskey" and the singalong "Good Problems" to name a few. Et cetera. The shoe fits.
For concert dates and more on Anthony Orio, visit anthonyorio.com.
http://boropulse.com/2014/02/anthony-orio-home-bright-lights/